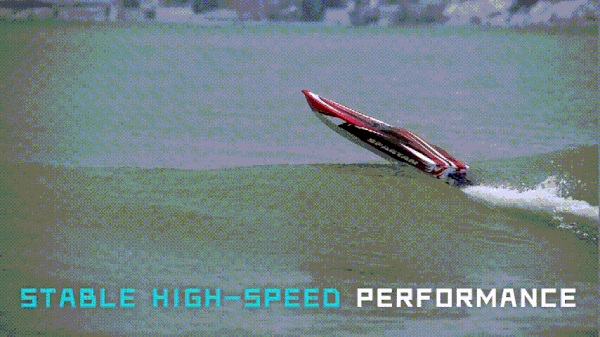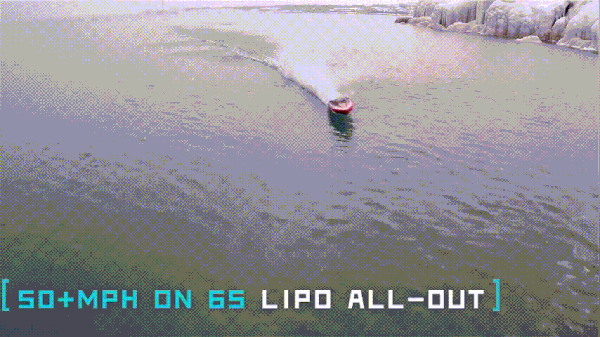 Velineon VXL-6s Marine Brushless System

Extreme Velineon brushless horsepower delivers the muscle you want with the reliability you expect from Traxxas. The VXL-6s Marine electronic speed control is built for true 6S LiPo power.* On-board low voltage detection helps you maintain your batteries. The extra voltage and current maximizes the potential of the Velineon 540XL motor for extreme 50+mph speed. The sensorless Velineon 540XL motor is designed for high-rpm performance and 
reliability with ultra high-temperature sintered Neodymium magnets, a precision-balanced rotor, and efficient, high-speed ball bearings. Cooling water is routed through the innovative speed control case and then into a unique sealed motor jacket that allows cooling water to flow directly against the motor for maximum possible heat transfer. The Spartan keeps its cool, run after run, for trouble-free all-day fun.
Velineon® VXL-6s Marine ESC
Easy-Access Hatch
Spartan's hatch is secured by a single body clip and removes in seconds for fast and easy access to the hull interior. No sealing tape is required, and a specially designed drip rail in the hull channels away any water that washes over the hatch.

Body-Clip Lanyard
You'll never drop a body clip into the lake with Spartan! A flexible rubber lanyard keeps the body clip secured to the hatch so it's always at the ready. It's just one of the many small details that makes a day at the lake with Spartan fun and easy.

Streamlined Water Outlet
Nothing was overlooked in the effort to optimize every detail of the Spartan—even the water outlet is unique! Instead of an unsightly piece of tubing, Spartan's water outlet is streamlined and integrated into the hull, maintaining its sleek look.

Factory-Applied Graphics
Spartan's bold graphics make it the most stunning boat on the lake, with a custom look even pro painters can't match. No painting or decals are required; all the graphics are pre-applied to get Spartan out of the box and into the water with speed and style.
Integrated Battery Trays
Spartan's hull is further strengthened by its integrated battery trays, which securely hold a variety of battery packs from 8.4V NiMH batteries all the way up to 8400mAh 3s LiPo packs. The roomy trays allow the hull to be trimmed by positioning the packs fore and aft, and convenient hook and loop straps secure the batteries.
Removable Power Module

A signature feature of the Spartan is its unique Power Module. The VXL-6s speed control, waterproof receiver box, and powerful 2056 high-torque servo are all bolted securely to the tray. Detach the steering linkage and flex cable, then loosen just two screws to release the Spartan's electronics. All of the electronic components, including the motor and stuffing tube, lift out as a unit. No other boat makes it so easy to access the hull interior and electronics, and the molded parts fit into the hull precisely for perfect alignment without crude brackets or wooden stringers. The Power Module also contributes to the Spartan's stability by holding the electronic components low in the hull. Spartan's low center of gravity, combined with its wave-cutting deep-V hull, gives it high stability without compromising high performance.
Quick Release Flex Cable
Some boats rely on set-screws to pinch the flex shaft in place. Set screws are prone to loosening and can damage the flex shaft—that's not the Traxxas way. Spartan features a clamping collet that holds the cable tightly and centers it perfectly with the motor's output shaft for smooth, efficient operation. When it's time for maintenance, the collet releases quickly with a twist of the included precision wrench. Once loosened, the prop and flex cable simply slide out. Reinstallation is just as fast, making it easy to keep your Spartan running in absolute peak form.

High-Performance Prop
Spartan's surface-piercing prop is optimized to get the hull on plane quickly without cavitation and to run at maximum speed with the least current draw. Traxxas engineers spent many hours testing prop configurations to find the perfect balance of performance, efficiency, and durability. Molded composite construction makes the prop light and tough, with no balancing or sharpening required.
High-Strength Aluminum Hardware
Extreme brushless horsepower demands rigid drive hardware and a flex-free transom for sharp and predictable handling. The rudder, rudder support and drive strut are extruded and machined from rugged 6000-series aluminum alloy for maximum strength, and then polished and anodized vivid blue for that unmistakable Traxxas look. When you lean the Spartan over into a water-carving turn, you can count on the rudder to dig in and hold your line. The rudder incorporates a pickup for the water-cooling system, and uses Oilite bushings for smooth steering action. The drive strut also uses Oilite bushings for corrosion-free performance, and features an oiling hole for easy maintenance.



Stainless-Steel Trim Tabs & Turn Fins
Spartan's dual trim tabs and turn fins are critical to its high-speed performance. The parts are precision die-cut and bent from stainless steel to resist corrosion as they provide aggressive cornering 'bite' and the proper hull attitude for water-boiling speed.


Stainless Steel Hex Hardware
Spartan uses corrosion-resistant stainless-steel and nickel-plated hardware throughout for good looks, easy maintenance, and lasting performance. Convenient hex heads make Spartan a pleasure to maintain.
Waterproof electronics are a must in the marine environment. Traxxas electronics are fully waterproof (not just water resistant). The speed control, servo, and receiver all feature rugged waterproofing protection for dependable operation you can count on. It's an innovation you'll find only in Traxxas vehicles.
High-Torque Waterproof Servo
Spartan demands a powerful steering servo for responsive performance, and Traxxas delivers with the 2056 high-torque servo. O-ring seals make the servo completely waterproof, and there's steering muscle to spare with 80 oz-in of torque at your command. That's twice the power of typical "standard" servos.