This motion activated jet spray-sprinkler animal repeller drives away unwanted "visitors" to your garden or property with a harmless jet of water.

When the built-in sensor detects movement within a range of up to 90 square the jet of water is activated. Most animals are disturbed by this jet of water and leave the monitored area. The jet of water is only reactivated when movement is once again detected.
The interval of two reactivation's is adjustable. This ensures high effectiveness with very low water consumption.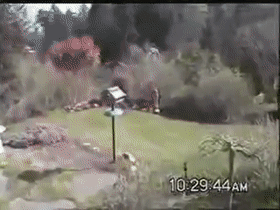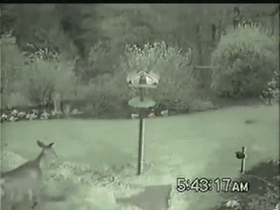 Does a dog keep pooping in your garden or in a particular spot in your yard where you wish he wouldn't, or perhaps rabbits or deer keep munching on your flowers or tomato plants. This brilliant new invention combines a sensor with a yard sprinkler and will spray oncoming pests and pets to deter them from entering that area. It's perfect for scaring off dogs, cats, deer, rabbits, mice, birds, raccoons, squirrels, and more.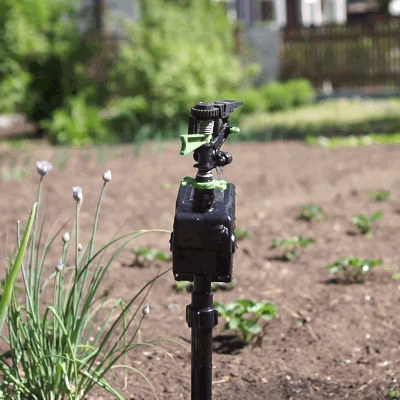 Sprinkler contains a sensor that's powered by a solar rechargeable battery and will automatically detect any movement within 36 feet radius. Once it detects movement, it sprays an area up to 1200 feet for 5 seconds, and then stops until it detects more movement.
All you have to do is just attach a garden hose, and It will do the rest. It's a safe alternative to ugly fencing, and won't hurt any animals that it sprays, as it'll just scare them off so they run away. It's also great at deterring other wild pests from entering your yard or garden such as armadillos, chipmunks, coyotes, foxes, geese, moles, opossums, skunks, and more.
FEATURES: 
Protects gardens, landscaped areas and yards from deer, rabbits, birds and other animal intruders
Detects and sprays both day and night
Effective and Harmless - The sudden noise, movement and spray scare animals, teaching them to avoid your area.
Upgraded Motion Sensor - Unique lens design increases detection range for smaller animals, like cats and raccoons.
Fail-Safe and Leak-proof Valve - The valve is designed to automatically close and cut off the water even without power.
Hooks up in seconds with a standard garden hose
Efficient - Conserves water–just 2 to 3 cups per deterrence.
Specifications
Material: ABS
Overall dimension: 7.4"x3.1"x25.2"(LXWXH)
Protecting range: 30feet, 1000 sq. ft area
Product weight: 1lbs.

Package include:
1 x sprinkler
1 x flow through cap
1 x sensor housing
1 x quick connect coupling
1 x stake top
1 x stake bottom
1 x decal sheet