Make your artwork shine!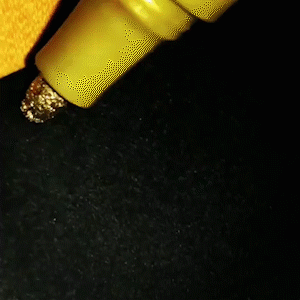 Never settle for ordinary and colorless craftwork projects! Revamp them all by giving it a sparkly look with the Paint Marker Pens!
NON-TOXIC AND SAFE - Our paint markers are water-based, non-toxic, without strong smell, safe, and kid-friendly. (We suggest children under 3-years old should be used under the supervision of an adult).

PREMIUM QUALITY - Made with specially formulated, xylene-free opaque ink, these metallic marker pens provide nice coverage. Our metallic pens are non-toxic, odorless, acid-free, and environmentally-friendly. The water-based ink is chemically stable and fades resistant. Our ink lends itself to a smooth application that dries quickly.

MEDIUM POINT METALLIC MARKERS - Medium bullet tip markers for larger details. Our premium-quality metallic paint marker pens are great media to use for art projects, black paper crafts, DIY crafts drawing, gift making, customized mugs, rock painting, adult coloring activities, and holiday decorations. Easily mark light and dark surfaces with the bright, highly visible metallic finish of these metallic permanent markers.

MARKS ON MOST SURFACES - Acid-free metallic markers for black paper, works on most surfaces, such as cardstock, rock, plastic, fabric, metal, wood, ceramics, glass and more. The end results are always vivid, glittery, and bright, even when applied to dark or colored paper. When using our permanent metallic markers, unlike most metallic paint pens, you do not need to shake them.
MAKES A GREAT GIFT

 - These metallic pens will be a fantastic present for your sister, brother, daughter, granddaughter, son, kids, wife or for those painted rock lover for Christmas, Birthday, Mother's Day, Easter Day, Valentine's Day, Thanksgiving Day, Party, New Year's gift, etc. 
HERE ARE SOME TIPS FOR BAKING THE PROJECT ON GLASS, CERAMIC OR PORCELAIN: 

Make sure that the surface is thoroughly cleaned, use rubbing alcohol. Don't forget to remove all price stickers, otherwise, it will burn when you bake; 
Once you are happy with your design let it air dry for 24 hours before baking. This will ensure proper adhesion of the design on the surface; 
After fully dry, place your project into a cold oven; 
Turn oven to 350˚F; 
Set a timer for 1 hour; 
Once the hour is up, turn off the oven; 
Open the oven; 
Let the project cool down completely. It is better to wait a day. 
Hand-washing in warm water is the best option to wash the surface. We do not recommend using a dishwasher or heavy-duty sponge. Remember, there is always a chance to scratch the paint, be extra careful with the project!S 
LOOK AT SOME OF OUR HAPPY CUSTOMERS' PHOTOS
SPECIFICATIONS
Shell Material: Plastic
Fine tips: about 2-3 mm
Length: 14cm

PACKAGE INCLUDES
10 Pcs  X Metallic Paint Marker Pens
NOT SOLD IN STORES!
ADD TO CART NOW for 50% OFF 
Please note that Shipping Time will take approximately 3-4 weeks.

SHIPPING DELAY NOTICE:
Please expect 2-4 weeks shipping delay due to the High Volume of Order.