Repair your tire wherever you go and be up to speed!
Getting a flat tire on the road is a major driving inconvenience and it can also be a terrifying experience, so getting a reliable working digital tire inflator is a must-have for any car owner!
Say goodbye to paying for air at gas stations, or spending 20 minutes filling up a single tire with other portable inflators. Our portable air compressor will get a midsize tire from completely flat to 30 Psi in under 4 minutes! Just dial in your tire's correct pressure on the digital display, and the inflator will turn off automatically when the correct pressure levels are reached.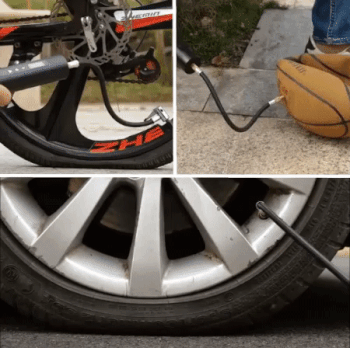 Features:
Compact and light - You can bring portable tire inflator anywhere you go and store it at the back of your car! It doesn't even take too much space.
Smart Inflating System - This 12v air compressor is equipped with an LCD screen that displays the air pressure of the tire. It automatically stops when it hits the preset tire pressure.
Without any wires - Designed to be used at any time, it does not need any outlets or cables! Its strong battery can last up to a long time and refill all of your tires!
Self-illuminating - Sometimes getting a flat tire can occur during the night! Luckily its self-illuminating highlight beads will aid you if that situation occurs!

Rechargeable battery - Our tire air pump is equipped with an in-built 500 mAh lithium-ion battery that runs for several hours. You can easily connect the device to the power outlet of your car since you'll receive a car charger along with the device.
Package Includes:
1* Portable tire inflator
1* USB Charging Cable
1* Cigarette Lighter Charging Cable
1* Air Hose
1* Presta Valve
1* Ball Needle
1* Toy Nozzle
1* User Manual